As you may have heard, Hurricane Nicole recently swept through the Orlando, Florida area. I live in an Orlando suburb called Clermont, which had high winds but overall wasn't affected too much. The harshest part for me was that my favorite local restaurant was closed due to power issues.
While my family and I came out of the hurricane well, other parts of the state did not. This Orlando Sentinel article details the issues other parts of the state faced, such as shore erosion, flooding, and even some bridges ripped out: https://www.orlandosentinel.com/weather/hurricane/os-ne-tropical-storm-hurricane-nicole-thursday-update-20221110-4ha74apjmne4lpbthmfsoi4ctq-story.html .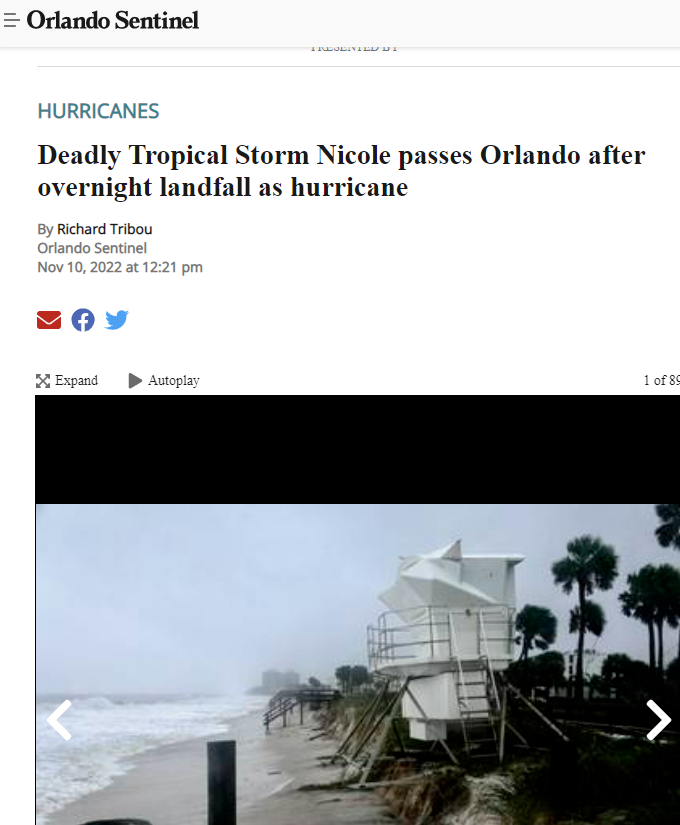 Hurricane Nicole wasn't too bad, but other hurricanes have hit my state and dealt much more damage. In those cases, where the hurricanes are predicted to be severe, my family books a flight to visit my siblings in Illinois, California, and Colorado.
But there are some times where a hurricane is not too bad – and then us Floridians go into party mode! We have hurricane parties to wait out the storm, stash extra supplies in our attic, fill our bathtubs with water, and so on. Having hurricane parties might sound crazy to people outside of Florida but for the most part Florida houses are built well and our neighborhoods are landscaped to channel water away, so there's not much to be concerned about except for a 1-2 day blackout.
What I don't see mentioned on the news at all is that it's very common for some Orlando residents to – when they see a hurricane coming – to immediately book a hotel room in a Disney World resort and spend the hurricane plus a few days afterward there. There is an elderly couple a few houses down from mine that routinely does this. Disney World is fantastic with its emergency response and its hotels are well supplied, so even when the surrounding communities are in a blackout, there is at least food and warmth available in a Disney World resort.
I also have a work colleague that frequently books Disney resorts to wait out hurricanes, and he absolutely loves it – Disney passes out prepared meals for rooms (typically dishes that can be eaten cold such as sandwiches, yogurt, cut fruit, etc), has performers out in resort common areas to entertain the children, and has teams out fast to clean up the debris from hurricanes. You can Google some of the things that Disney does to keep the magic alive during hurricanes; here's an article I found with a picture of the hurricane menu at a Disney resort.
I've been told that the best resort to take refuge from a hurricane in is the Contemporary Resort; the Contemporary's A frame design makes it very strong, plus the common areas have huge windows so you can see the hurricane blow through. I was trying to find a YouTube video of a hurricane from the Contemporary's viewpoint, but the best one I could find was this video of Hurricane Nicole's aftermath in the Boardwalk area:
We survived Hurricane Nicole, and now you know how we handle hurricanes in Orlando: book a Disney resort room, or have a party!